We often get asked to produce sash windows for clients and I enjoy the challenge of producing these classic windows every time. I think it must be something to do with the beauty of them and how they have so heavily influenced classic design in Regency, Georgian and Victorian architecture.
So I thought I would share some of my knowledge of their origins with you and over the next couple of weeks tell you how they evolved to the point that they are making an impression on design in the twenty first century.
Origins
Whoever made the first sash windows has been the subject of many a debate and speculation and, until recently, the general opinion was that sash windows were invented in Holland in the late 17th Century.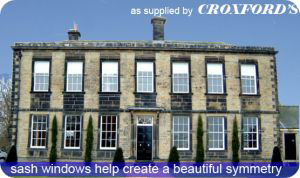 However recent research work undertaken by Dr Hinte Louw, of the University of Newcastle Upon Tyne, suggests that sash windows could have been invented earlier in the 17th Century in England whilst some historians suggest that sash windows originated in France as the word "sash" derives from the French "chassis" , which means frame. I like the idea that they came from the Yorkshire sash which slid horizontally and without weights.But in the end, who cares, sash windows are as traditionally British as cricket and Yorkshire puddings, and have become synonymous with all kinds of Georgian, Victorian and Edwardian architecture.
Early Use
The earliest-known use of sash windows in this country was in the later part of the 17th Century, at Chatsworth (c1676-1680), Ham House, Hampton Court Palace and Kensington Palace. Ideally suited to the "perfect canons of proportion" with their subtle style and elegance, sash windows were one of the most important visual elements in buildings of the 18th and 19th Centuries and together with Royal patronage and adoption by Sir Christopher Wren, sash windows very quickly became both fashionable and a status symbol in old and new buildings throughout the United Kingdom.
The development of sash windows was timely as they had enormous aesthetic and practical superiority over the older casement windows.
These wrought-iron hinged metal windows, with their mullions and lead cames, were not only dark and draughty, but weaknesses in the leaded casement restricted the use of larger sheets of glass.
Casement windows, when open, detracted from the facade rather than enhance it, whilst the new sash windows were smart with their white frameworks and larger sheets of glass. The crown glass in these early sash windows created beautiful reflections that could not be matched by the small panes of earlier windows.
People who could afford the new sash windows ruthlessly cut out their leaded-light windows, which explains why so many larger 16th and 17th Century houses have early 18th Century windows.
This fashionable modernisation was often lavished only on the principal facades, and early casement windows often survived on the less prominent facades. The earliest sash windows had thick glazing bars to the sashes, which were usually constructed of oak, the weight box being set almost flush with the outer wall.
Next week I will bring you up to date with the history of sash windows and how they are now seeing a revival in the twenty first century.